About Andrews Sykes Climate Rental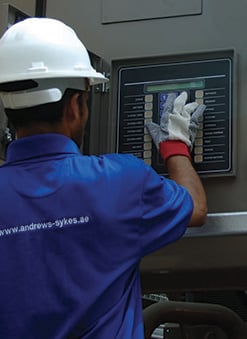 As the UAE's largest specialist Rental company, we provide the best pumps, heating and cooling equipment for virtually every need, location and application. Our aim is to help our customers to address the real-life challenges they face-whether planned or emergency-in the fastest, most expert, professional and cost effective ways. We offer the safest, most reliable equipment sourced from the world's top manufacturers.
Andrews Sykes Climate Rental contains the two premier brands of the UK and Middle East Rental industry: Khansaheb Sykes Pumps and Andrews Climate Control. The Andrews brand offers six core product areas: Air Conditioning, Heat for Sale, Dehumidification, Chillers, Boilers and Ventilation.
All our product areas are leaders in their field:
The Andrews and Khansaheb Sykes brand has more than 40 years experience dealing with Rental, sale, installation and maintenance of all types of comfort cooling, air conditioning, heating, temperature control, ventilation and dehumidification systems, making us the UAE and Middle Easts largest maintainer of packaged temperature controlled systems.
Sykes Pumps has more than 150 years' experience in delivering advanced pumping and ground water solutions. No other company has more expertise and heritage in pumping, de-watering and specialist fluid moving than Sykes pumps. Starting on the banks of the Thames way back in 1857, our long history has seen us supporting key projects across the UK, both planned and emergency. A lot has changed over the years but our commitment to delivering the finest equipment and exceptional service hasn't.
Today, Andrews Sykes has depots strategically placed to offer a local service across the UK, Europe and Middle East. We have over 300 dedicated employees trained and ready to help you. The dedication of our people and the values of our company give our customers the trust and faith to use our service time and time again.
You can find a list of our locations across the Middle East and Worldwide.