50 Golden Years

After 50 successful years in the rental industry we examine how the Andrews Sykes has developed since its inception by John Andrews in the 1960's to become a major force in climate rental across Europe and beyond.
Past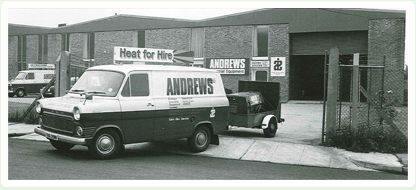 Originally founded as Andrews Industrial Equipment in 1964, the company started with importing steam cleaners and portable heaters from North America, before selling them in England. The concept was discovered by owner John Andrews following a trip to the USA and marked the first step towards the establishment of today's enterprise.
That same year, a business associate in the Wolverhampton area enquired about borrowing a heater temporarily. John decided to rent the unit instead, and it was here that the idea of renting equipment was first explored. Within five years, the company had opened depots in Wolverhampton, London, Glasgow and Nottingham as demand for heaters grew.
Although the business had flourished since its inception, John recognised that Andrews was chiefly a winter business. In order to become an all-season operation, procuring products for the summer months was crucial to its development. During his visit to the regional trade exhibition, John immediately recognised the potential of portable air conditioning units that were being manufactured in Italy. In 1969, he set up Andrews Air Conditioning for Hire as part of the Andrews Industrial Equipment group.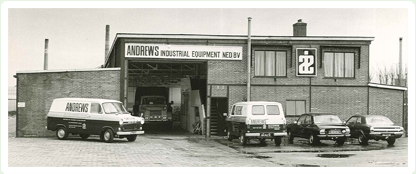 The ensuing years saw rapid growth, due in no small part to more offices and computer rooms being built across the country. The first overseas branch was opened in Holland in 1971, and by the middle of the decade Andrews had 25 working depots located throughout the UK. John Andrews continued to oversee the organisation's expansion before eventually deciding to retire in the late 1980s.
Chillers and air handling systems were added to the hire fleet in 2000, and this division now offers clients an assortment of solutions for all requirements. Packaged boilers were also introduced in 2005, enabling us to supply even the most obscure applications with central heating and hot water.

Present
On a global level, today Andrews Sykes is known to be an eminent brand, we have evolved and expanded in Europe and beyond, which has grown us over a short period of time, and we continue to thrive on our principles and values. The brand has expanded to various locations including Netherlands, France, Italy, Luxembourg, Belgium and Middle East.
Andrews Sykes Climate Rental is recognised throughout the Middle Eastern region as a leading supplier of specialist rental equipment. Our main aim is to deliver efficient and effective climate control to customers across a full gamut of industries and help in overcoming the everyday difficulties they may encounter.
We now offer a diverse range of air conditioners, chillers, dehumidifiers, ventilators, boilers and heaters available throughout our depots located around the MENA region. Along with bearing a supreme range of rental units, we thrive on our well trained and experienced staff and resources who are available to assist you throughout the year.
Andrews Sykes Climate Rental started as a sister company of Khansaheb Sykes, which is one of the largest dewatering sub-contractor in the Middle East. Over the years we have grown and have been renowned for our quality, service, reliability and professionalism. With our expertise and knowledge, we have catered few of the most elite clients.
In the Middle East, we employ more than 100 employees who are diligently working towards providing a better service to our clients, we aim to grow our staff in the coming few years. We provide with the most reliable and energy efficient rental units throughout the region. Over the years, we have introduced customized rental equipment to suit the climate here.
We have constantly invested time and resources in recruiting and training our engineers, technicians and sales team, who are directly related to our performance. We ensure they are well trained and knowledgeable to gain a better understanding of HVAC, and how to deliver efficient solutions to any of your requirements. We remain committed to develop young employees and exercise youth development and appreciation schemes to enhance employee relationships.
We now have a well spread network around the MENA region, with our branches located in UAE, Oman, Qatar, Bahrain and Kuwait.
Moreover, we hold both the ISO 9000 and ISO 4001 accreditations, which indicate the high standards with which the company operates. No-one else takes their environmental and qualitative obligations as seriously as us, and we are proud to demonstrate an unparalleled level of compliance with the trade's requirements.

Future
Moving forward, our company is focused on maintaining steady levels of growth which will enable us to expand to new locations and introduce new products to cater to the market. We have launched new products over the last few years which have been designed and manufactured to suit the tropical climate experienced in the Middle Eastern region.
Our latest additions to our range of products is the High Performance Air Conditioner (HPAC90) which is one of the most powerful air conditioners in our fleet. Its capacity of cooling and heating both in a single unit makes it stand apart from other market offerings. We have as well launched the Fast Dri (FD 40) dehumidifier which is the latest building drying unit available from Andrews Sykes Climate Rental.
Further ahead, we are planning to introduce more powerful high performance air conditioners to our fleet of rental units. Additional units are under early stages of development and will be launched subsequently.
Each and every product launch or innovation we bring to the market aims in solving the day to day challenges faced by diverse sectors and industries. We develop our units keeping our client requirements in mind, improvising of product efficiencies, and compliance to environment standards and acquiesced to the updated laws and legislations.
We look forward to expanding our reach by establishing new depots across the region, at the same time also focusing on enhancing our existing outlets to be able to serve our clients better.
As we continue to grow, we look forward to provide consistency and reliability when it comes to service, delivery, installation and performances of the units. Our operations team will always be available to assist you with technical difficulties and available to provide you with free site surveys to determine the best solution for your requirements.
A lot has changed during our 50-year existence, but our dedication to providing consumers with the best climate control systems available on the market has firmly continued. This determination to offer our clients outstanding rental solutions to any conceivable climate problem is a key cornerstone of Andrews Sykes Climate Rental's practice, and will hopefully stand us in good stead as we look ahead to what we foresee as being an equally successful period in our history.