You are here:
Home
>
Chillers
Chillers on Rent
Our Services
Sectors and Industries
Andrews Sykes Climate Rental offers you a comprehensive range of portable/mobile chillers for short term and long term rent. Our cooling hire package along with air handlers & duct works, can provide you with a 24/7 support which is reliable and efficient. We pride ourselves in being able to provide cooling to various applications in different sectors.
Our HVAC team can help you choose the best solution with the right equipment needed for your application. They can even come down and provide you with a free site survey to determine your best needs. Whatever your business, our experts can provide you with suitable rental equipment to meet and exceed your expectations.
Our range starts from a 50kW chiller to multi megawatt equipment depending upon your requirements. Our rental solutions are turn-key, comprising of full installation, on-site servicing, back-up solutions, commissioning & technical services.
We have been market leaders in climate rental whilst providing our clients the largest range of chillers available in the Middle East. We offer you planned solutions for maintenances, emergencies and breakdowns to keep your services and business running and avoid losses.
Our local expertise and knowledge, stands us apart from other HVAC rental providers, which makes us a problem solver in different sectors such as Food and Beverages, Manufacturing and Productions, Healthcare and Pharmaceuticals, Events and Hospitalities, etc.
Andrews Sykes Climate Rental- Energy Efficient & Reliable Equipment
When it comes to our chiller rental services, our experience and knowledge not only makes us understand your exact requirements, but also allows us to provide you with our latest, cost effective, reliable and environmentally friendly cooling units, delivered to you in a friendly and responsive manner.
We deal efficiently with all type of environments whether they are large or small. Our ability to deliver to you at the earliest time in any UAE or GCC makes us a leader in HVAC suppliers in the Middle East. Whenever it is required, our HVAC engineers are ready to come down for a free site survey to give you the best advice in terms of design, installation and number of units required. With our years of expertise, all our engineers are experts in their field, giving you the right climate rental solution, which is most ideal for your type of environment.
We offer you a toll free service which can be utilized from anywhere in the UAE, which will give you the opportunity to get directly in touch with one of our cooling sales representatives who will assist you.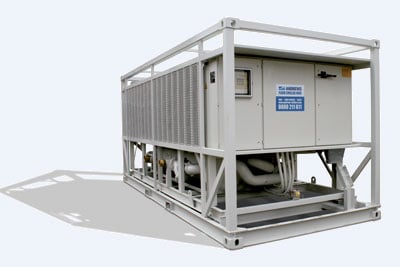 Chiller Rental - 750kw Fluid Chiller
Our wide-spread range of chilling and cooling equipment, is tried and trusted within many sectors and environments. Our wholesome amount of expertise and knowledge helps us operate easily in several sectors including:
Food & Beverages: Andrews Sykes Climate Rental provides you with instant cooling and chilling solutions during the production, manufacturing and storage of perishable food and beverages which are very sensitive to excess heat or excess cold.
Events & Exhibition Halls: When you are still wondering how you are going to keep all those guests comfortable during the entire event/exhibition, then you have come to the right place! Andrews Sykes Climate Rental is proficient and well experienced in providing complete packaged cooling solutions!
Hotels & Restaurants: We understand when you say your guests come first. Andrews Sykes Climate Rental's complete chiller rental solution will ensure that you don't sweat out your customers during any maintenances and emergency breakdowns.
District Cooling: Andrews Sykes Climate Rental supports major district cooling providers in case of emergencies or scheduled maintenances where they require to shut down partially or fully.
Facilities Management (FM): We are supporters to various facility managers who handle operations of small and large offices, shopping & retail outlets, leisure facilities etc. We help you control temperatures and humidity during shortages, maintenances and breakdowns.
Locations Throughout The Middle East

Service centres and agents across the Middle East with over 150 dedicated employees.

24 Hour Service

Andrews Sykes Climate Rental guarantee you quality equipment and service by fully trained and experienced engineers on call 24/7, 365 days a year.

Free Site Survey

Free, no obligation, site surveys and quotations.

Price Competitive

We provide a price competitive, sales and support service for our extensive range of products.