Heat Exchanger Hire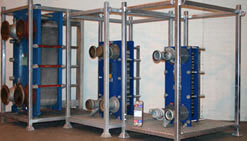 Andrews Heat Exchanger hire offer the biggest range of Heat exchangers, air handlers and cooling accessories for hire in the UK. We can deliver to you fast from our nationwide depots and unlike other suppliers we guarantee a "genuine" 24/7 365 days a year fast and friendly service. We will help you decide which Heat exchanger hire unit is best for you to help with your process applications. Our Heat Exchanger Rental service promise is to be onsite within four hours of your call with reliable and tested Heat Exchangers for all of your cooling or heating requirements.
From 22kW to 10 megawatt units Andrews Heat exchanger Hire has been the UK's leading specialist provider of fluid transfer systems and process cooling products. We take pride in providing you with the very best cooling and heating solutions to make sure that there is no disruption to your processes minimising down time. Price competitive, Andrews's Heat exchanger hire can supply the right solution whenever you need it. We will always make sure that your call will be answered by one of our Heat exchanger hire experts who will go through you requirements quickly and efficiently and ensure that the best Heat exchanger hire unit will be delivered to you fast. Our specialist knowledge and experience in Heat exchanger hire not only lets you understand your needs, but allows us to provide you with the very latest in environmentally friendly Heat exchanger hire units.
30 Locations

Over 30 locations and hire centres UK-wide, and over 500 dedicated employees worldwide.

Instant Delivery

Fast Nationwide delivery - within four hours of your call.

24 Hour Service

Andrews air conditioner hire guarantee you quality equipment and service, fully trained and experienced engineers on call 24/7, 365 days a year.

Free Site Survey

We offer free, no obligation, site surveys and quotations.

Price Competitive

We provide a price competitive, sales and support service for our extensive range of air conditioners.

Climate Contingency

We provide contingency planning, business continuity and disaster recovery solutions for all your temperature control requirements.