Fuel Management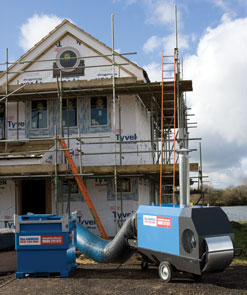 Once your heating solution is up and running, Andrews offers a comprehensive fuel monitoring service.
In addition to supplying the initial start-up fuel, whether it be LPG, gas or fuel oil, an operative will continue to monitor the fuel usage on your site and arrange refuelling deliveries as required, whilst monitoring the performance of the heater units.
Fuel buggy
The Andrews Sykes wheeled fuel buggy has a 90 litre capacity. This mobile fuel tank offers a simple easy to locate solution to projects requiring smaller fuel supplies.
Fuel buggy's may be easily connected together via self quick couplers, to provide extended running times where required. The fuel buggy is designed to be used in conjunction with the Andrews Sykes fuel pick-up pipe assembly, which also uses self sealing quick couplings for ease of installation and avoidance of fuel spills.
Bunded fuel tanks
The safe transportation and storage of fuel, especially in environmentally sensitive areas, is an increasing concern for all. Sykes offers a purpose built range of fully bunded fuel tanks for hire, with a capacity range from 1,000 - 3,000 Litres. Fully compliant and tested to ADR and UN requirements for IBC (International Built Container) standards. All manufactured under ISO 9001:2000 requirements.
Fuel pick up pipes
The Andrews Sykes fuels pick up pipe assembly is designed to fit directly into the Andrews Sykes fuel buggy or 45 gallon oil drums. They have an inline fuel filter and non return valves, to avoid fuel running back causing air locks and dirty fuel reaching sensitive equipment. The detachable fuel lines have self-seal quick couplings for ease of installation and avoidance of fuel drips.