When you celebrate your once in a lifetime special day, you would like to remember it for all the good reasons. Recently, Andrews Sykes Climate Rental had the opportunity of enhancing the ambience of a wedding taking place in the garden of a 5-star hotel in Dubai.
After a brief site survey of the location, our experts provided the clients with our EV 25 Evaporative Coolers which are ideal and adept for cooling the outdoors. The units were placed all across the seating area for the guests to be seated comfortably during the entire duration.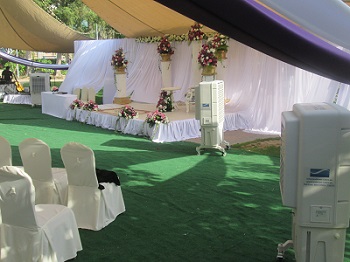 The portable AC units being stylish and sophisticated, added elegance to the wedding event and operated in the most discreet manner with a very low noise level. These units are best used in events, offices, warehouses, storages, retail chains, hospitals and schools.
Outdoor cooling can be a challenge considering the open area and the humidity level in the air. Our Evaporative cooling units are designed to lower the temperature in the atmosphere, leaving you with a soft silky breeze. They work best when there is low relative humidity in the air.
For more information on our evaporative cooling or air conditioning, contact our experts!
E: [email protected]              W: www.andrews-sykes.ae            Toll Free: +971 800 79537