Our clients will be pleased to know that we have received a new shipment of dehumidifiers just in time for the humid conditions in the United Arab Emirates & GCC. August is forecast to break humidity records.
Our top 5 dehumidification applications include:
1. Internal fit-out in construction sector: relative humidity needs to be maintained below 50%
2. Building, overhauling & treatment of vessels in dry docks & ports: humidity needs to be maintained between 30 – 50% during treatment and curing
3. Manufacturing of food products: high humidity affects quality standards and regulations. These needs to be maintained at particular levels pending on the ingredients used
4. Maintenance and servicing of pipework in refineries: oil & gas plants have shutdowns where the pipework has to be cleaned and treated. Low humidity levels allow the shutdown to be shortened and therefore saving the client money and time
5. High moisture environments: these include kitchens, aquariums, indoor swimming pools, etc. Dehumidification can create a better working environment which leads to better productivity and safety of employees.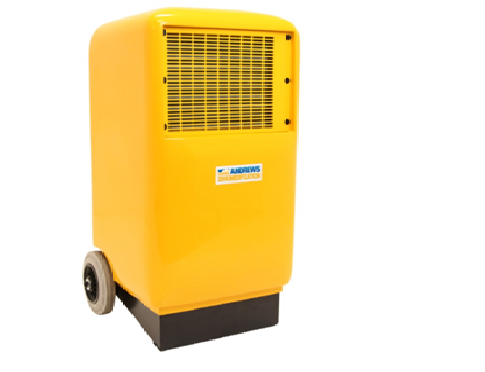 Dehumidification products come in various types such as desiccant dehumidifiers, refrigerant dehumidifiers, building dryers, fans & ventilation. We can also offer humidifiers, if required. If you would like any assistance, please contact one of our qualified sales representatives.If you have any building drying, dehumidification or curing application, please contact Andrews Sykes for more information. Our dehumidification specialists will be able to support you further. Please contact [email protected] or call (+971) 800 79537.