We are excited to introduce one of the industry's most economical dehumidification units – now available for rent.
The product combines impressive drying capacities with minimal power consumption and has been designed for use on projects where low dew point temperatures exist.
Despite being a high performance drying solution, this unit uses just 10kW of power per hour – making it significantly more efficient than similar products offered elsewhere.
Our latest models have been designed by a specialist manufacturer and incorporate all modern technologies to provide customers with an enhanced performance but lower operating costs.
A single unit will keep an area of up to 7,000m³ dry or dry out an area of up to 3,500m³, underlining its suitability to large environments including construction sites, petrochemical facilities, storage areas, warehouses and tank drying applications.
Each chassis has been constructed from sturdy materials to ensure a greater robustness for situations where the KT2200 is deployed outdoors. A purpose-built rain cover delivers further weather protection and allows the unit to be sited in just about any challenging open-air location.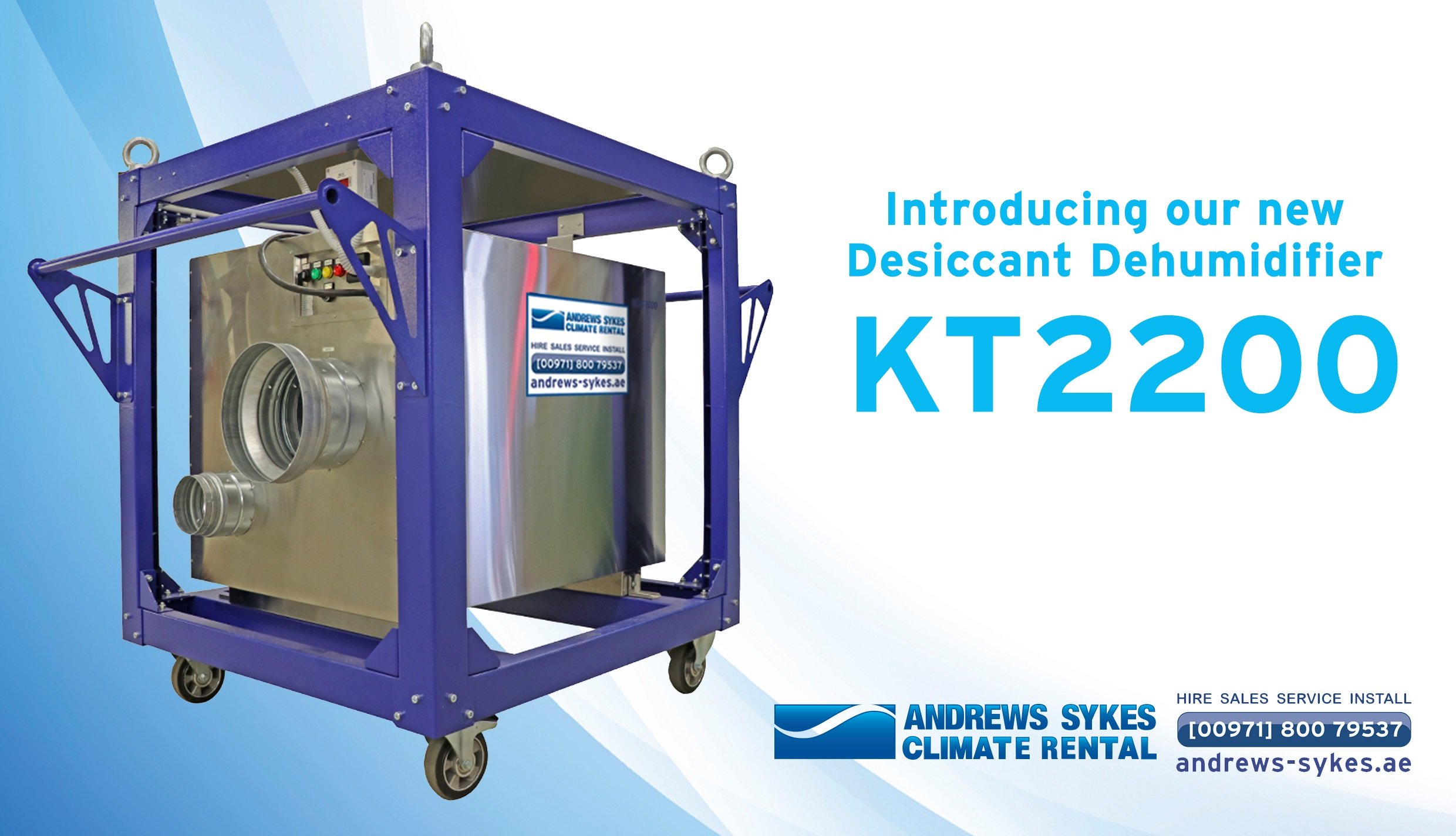 The unit can also be fitted with up to 40 metres of ducting for increased flexibility, making it ideal for scenarios where the product itself cannot be located inside the application that requires drying.
Other features and benefits include:
Extraction rates of up to 480 litres every 24 hours – ideal for large areas
Quiet operation – can be left running without disrupting others
Fully automatic – fitted with digital humidistat for close moisture control
Compatible with ducting – for projects with site restrictions
Large airflows – perfect for high capacity drying
Reduced power consumption – affordable running costs
Simple installation – enabling immediate use
Robust construction – can be used in challenging environment
For more information on the KT2200, or any other drying unit in our extensive hire fleet, call us today on +971 800 79537. Alternatively, you can click here to see a detailed summary of the product including specification details and an overview of all targeted environments.