Andrews Sykes Chiller rental department received a call from one of the tobacco product distribution companies to seek professional solution to maintain temperature and humidity inside 50,000 cubic meter warehouse facility.
As per the manufacturer's recommendation and local municipality regulation on all the tobacco storage facility must have controlled temperature, humidity and ventilation. The failure to abide by the rules will lead to serious hazard and health related issues.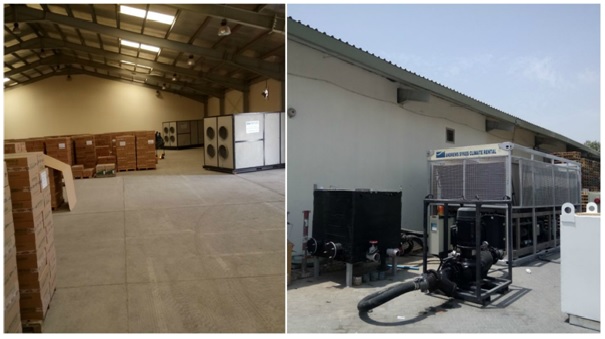 The client requested temperature should be below 28 Degree Celsius and humidity should be between 55 to 60%. As a leading climate control expert in the Middle East for cooling down such large warehouse facilities, Andrews Sykes suggested multiples of medium size 300kW air handler units along with 700kW air cooled chiller.
Client was satisfied with our proposal and within 24 hours upon confirmation we supplied, installed and commissioned the whole cooling plant.
For your Temporary Warehouse cooling, Warehouse climate control, Spot cooling for workers please do call us today on (+971) 800 79537 or send your enquiry to [email protected]. For more product information you can also visit our website www.andrews-sykes.ae