It was bright shiny Monday morning when our Chiller rental department received a call from one of the airport authorities to share wonderful news about the new luxury aircraft model.
The client wanted to make sure that the VVIP guests and customers who flew across the country to witness this phenomenon and to enjoy on flight experience. We offered our high ambient VFD driven package unit to meet the client's expectation.
Andrews Sykes HPAC90 was supplied along with the generator to power up the AC plant and other client's demands such as to power up the aircraft lighting and other controls.
The event was a huge success and Airport authorities welcomed more crowd than they have anticipated. They were extremely pleased with our cooling & power hire solutions. Hence our AC and Chiller rental team received great admiration for their best service & support rendered.
The Air Conditioner and the Chiller rental division once again achieved another reputable customer to include in the extensive list of satisfied and delighted customers, and we anticipate to conquer more.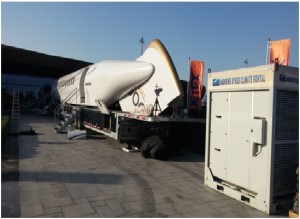 For expert advice, call us today on (+971) 800 79537 or send your enquiry to [email protected].For more product information you can also visit our website www.andrews-sykes.ae