As the weather in the UAE has started to get a little cooler compared to as experienced in the extreme summer months, Andrews Sykes Climate Rental is busy helping organizations and local residents to dry out and get a relief from the humid weather which is experienced all throughout the year in this region.
Being the Middle East's leading dehumidifier rental service provider, we offer a wide range of units on both short term and long term periods. Dehumidifying units are basically of two different types, refrigerant or desiccant, both of which are offered by us all around the GCC and MENA.
Refrigerant dehumidifiers function by passing the damp air over a cold coil known as an evaporator. A powerful inbuilt fan passes the air in the room over this evaporator, as it passes the water gets collected onto the coil and leaves the air dryer as it exits from the unit. The fan continues to repeat this same process with the room air resulting in the room air getting dryer with every cycle.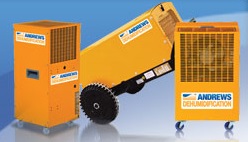 The dryer the air, the lesser the relative humidity which draws out moisture from the fabric of the building, hereby speeding up the drying process. The moisture collected in the form of water is either collected in a nearby vessel or drained out into a nearby drain or pipe.
Our popular refrigerant dryers include the DH 150 and DH 600 units, both of which are powerful and economical to use and available for rent all around the UAE in our depos and in the GCC through our agents operating in those regions.
Desiccant dehumidifiers are used where placing a refrigerant unit is not possible. These units operate by passing of air through a desiccant or moisture absorbing material, usually silica gel or lithium chloride. The moisture free air is then blown out through a flexible duct into the area. Enclosed basements, underground floors and parking are where most desiccant dryers come of use.
At Andrews Sykes Climate Rental we provide you with both types of dehumidifier systems with various range of units in their fleet. We also assist you with free site surveys and expert local advice by our site engineers.
For more information on any of our units and how we can help you, contact us on our toll free 800 79537 or email us on [email protected]