A delay in acquiring the glycol-water mixture found in chiller systems prompted the company responsible for a private residential property to seek an alternative cooling arrangement.
Although we're approaching winter in Dubai, temperatures during the day still regularly touch 30⁰C. As a result, tenants were desperate for a temporary cooling solution to be found as quickly as possible to help overcome the stiflingly warm conditions.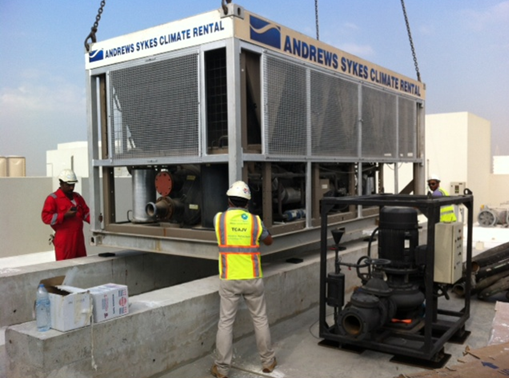 Having turned to us for assistance on previous occasions, our client was confident in our ability to propose a chiller rental that could deliver the required cooling capacities throughout the period in which they were waiting to receive special chiller water.
In the meantime, a tailored cooling rental was proposed comprising of two 682kW high ambient air cooled chillers. The two units in question were lifted onto the building's roof via crane and then connected to existing pipework, allowing them to be functional a short while after arriving on site.
Further complications necessitated that our equipment was retained for a lot longer than initially anticipated, with the hire extended to three months while the situation played out.