With high temperatures and uncomfortable conditions threatening to delay a major construction project in the Middle East, Andrews Sykes moved quickly to devise and implement a climate control rental solution.
The company overseeing the job was concerned about the implications of a potential postponement, prompting them to enquire about how we could assist them. Our sponsors, Khansaheb Civil Engineering, are one of the most established companies in the region and have further enhanced our reputation as industry leaders.
One of our local experts liaised directly with the customer and reassured them that a temporary air conditioning arrangement would sufficiently protect workers by drastically reducing high temperatures on site.
The majority of those working on the project were based in confined spaces underground, meaning there was little ventilation and no cooling relief.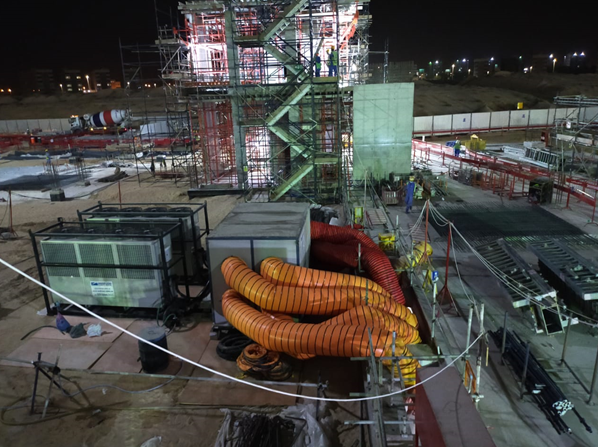 To address this, our team proposed a 300kW chilled water air handling unit which would tackle both the excessive temperature and humidity. The configuration comprised of three 100kW high ambient air-cooled chillers which helped significantly improve conditions.
Prior to our arrival, the temperature was recorded as being 37⁰C, with relative humidity at 70%. Once the equipment was installed, temperatures were maintained at 25⁰C while relative humidity was limited to 55%.
Due to shifts split across 12-hour periods, our equipment was continuously operational – even through the night – with labourers constantly working to ensure the project was completed on time.
The construction manager was greatly appreciative of our efforts, and our kit is routinely supported by engineers revisiting site to ensure our cooling system still performs as expected.