Less frequent service schedule over long periods of time, chilled water system can lose efficiency and become ineffective – this create chances of it breaking down completely. When a well-known tube manufacturing and re-tubing company in Dubai suffered chiller failure at their Jebel Ali depot, an emergency chiller rental was necessary to keep staff and the machineries to work comfortable on site.
Client admitted, their existing unit was very old and less effective, so the eventual breakdown came as no surprise. Therefore, a quick solution was required to ensure their warehouse cooling facility to get restored. The warehouse space was overheating due to the large machineries and heat loads from small sized ovens.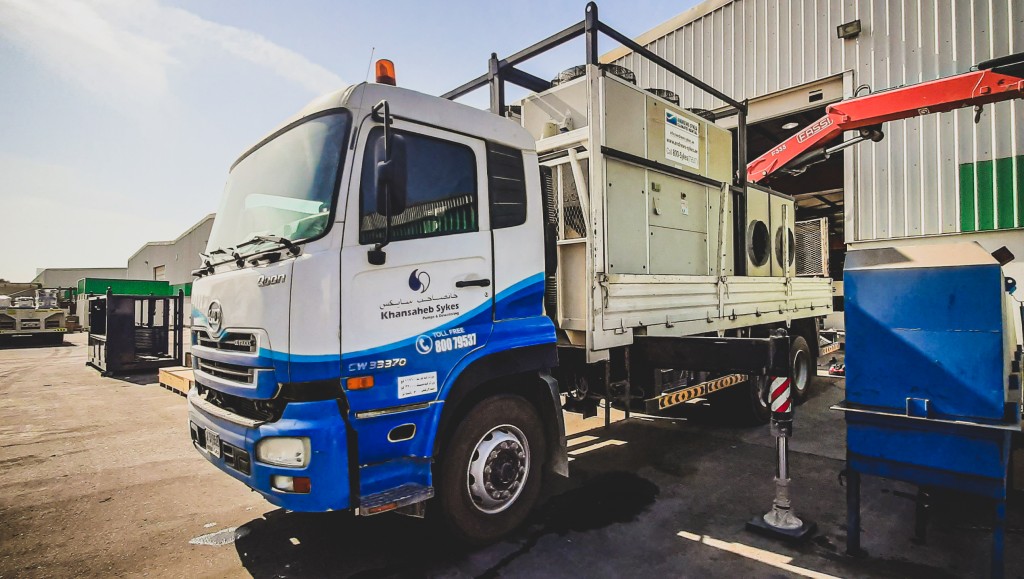 Andrews Sykes engineer recommended and commission 2nos 50kW chillers and multiple air handlers while taking careful steps to prevent workers and operations from being disturbed. As expected, the client was very happy with our temporary chiller rental package which had operated perfectly while repairs were carried out on the faulty chiller.
Andrews Sykes is pleased to offer clients with emergency shutdown temporary climate control solution. Provides all ranges of temporary cooling requirement 20kW, 30kW, 45kW, 50kW, 90kW, 100kW, 384kW or 700kW units at short notice. Trucks are equipped with HIAB loader, which makes the business easier and a maximum of 9ton per lift makes the cranes perform a variety of demanding tasks with ease. Hence, Andrews Sykes don't require a crane which can often cause delays to the mobilization and demobilization processes.
For any kind of air conditioner rental, chiller rental, heater rental, ventilation rental & dehumidifier rental, please do call Andrews Sykes Climate Rental today on (+971) 800 79537 or send your enquiry to [email protected].
For more product information you can also visit our website www.andrews-sykes.ae.