The summer in Middle East is so harsh as it is hard to work inside any building which is under construction or renovation, this due to high temperature and humidity. Most of the building contractors look for human comfort inside the building to keep their workers comfortable.
Recently, Andrews Sykes Climate Rental provided two 100kW air cooled chillers and multiples of 50kW air handling equipment to a newly built switchgear and transformer room for a sewage treatment plant located at Jebel Ali district, Dubai.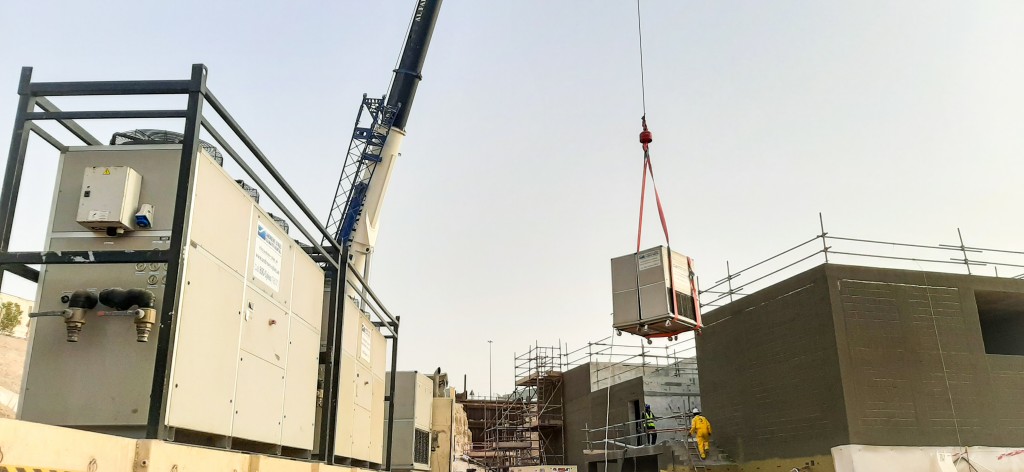 The proposed temporary cooling solution was to ensure a comfortable work zone for the workers for not to have heat stress also to keep the switchgear panels and transformers not to overheat while energization.
The provided 2x100kW air cooled chillers and 4x50kW mobile air handling units maintained off-coil temperature of 13°C, this is the most common practice done by Andrews Sykes for Wild-Air applications.
The project went a huge success and Andrews Sykes Climate Rental received various appreciations from contractors and sub-contractors, adding one more prestigious and delighted customer to the list.
Use the product finder on our website to browse with ease for knowing our vast equipment range, available to hire in the Middle East: www.andrews-sykes.ae.
For any kind of air conditioner rental, chiller rental, heater rental, ventilation rental & dehumidifier rental,  please do call Andrews Sykes Climate Rental today on (+971) 800 79537 or send your enquiry to [email protected].